GHDDI Launches A Scientific Research Data and Information Sharing Platform to Support Collective Research on 2019-nCoV
Global Health Drug Discovery Institute (GHDDI) and School of Pharmaceutical Sciences (SPS), Tsinghua University jointly announced on January 27th to make internal drug discovery platforms and resources available to external researchers to accelerate drug discovery efforts against the novel coronavirus (2019-nCoV) outbreak.
Initial efforts have been made by GHDDI's artificial intelligence (AI) team over the last few days. "Targeting 2019-nCoV", a scientific research data and information sharing platform, particularly designed for 2019-nCoV research, is now online.
Targeting 2019-nCoV platform mainly serves the dedicated researchers who are engaged and aiming at developing new treatment of nCoV. Clinical practitioners and the general public can also access the database to track and query related information. The platform archives historical SARS / MERS data as well as data for 2019-nCoV drug development. Users can also track the latest scientific research progress on 2019-nCoV in real-time. The platform aims to provide valuable resources that can help address the ongoing pneumonia outbreak by bridging the scientific, academic and industrial communities.
Main contents of the Targeting 2019-nCoV platform include:
1) Data mining and integration of historical drug discovery efforts against coronavirus (e.g. SARS/MERS) using AI and big data;

2) Relevant preclinical and clinical data resources;

3) Molecular chemical modeling and simulation data using computational tools;

4) Latest scientific research progress on 2019-nCoV.
Given the time constraints, the AI team has preliminarily sorted and classified the data. More thorough cleaning is required. Currently, it covers more than 900 small molecules involved in previous coronavirus-related research as well as experimental information at multiple stages. We hope that researchers can explore useful and inspirational information from the platform and accelerate joint research with GHDDI on the novel coronavirus.
In addition, the GHDDI team established multiple molecular drug target structure models based on the homology of 2019-nCoV and SARS and conducted drug design to further explore the target mechanism. Relevant information will be uploaded to the platform in due course.
Targeting 2019-nCoV will be constantly updated. Once ready and deployed, other open platforms and resources will be announced on GHDDI's official website (www.ghddi.org) and WeChat platform (ghddi_). We appreciate your support and valuable suggestions.
Use the following link to access the Targeting 2019-nCoV info sharing portal:
https://ghddi-ailab.github.io/Targeting2019-nCoV/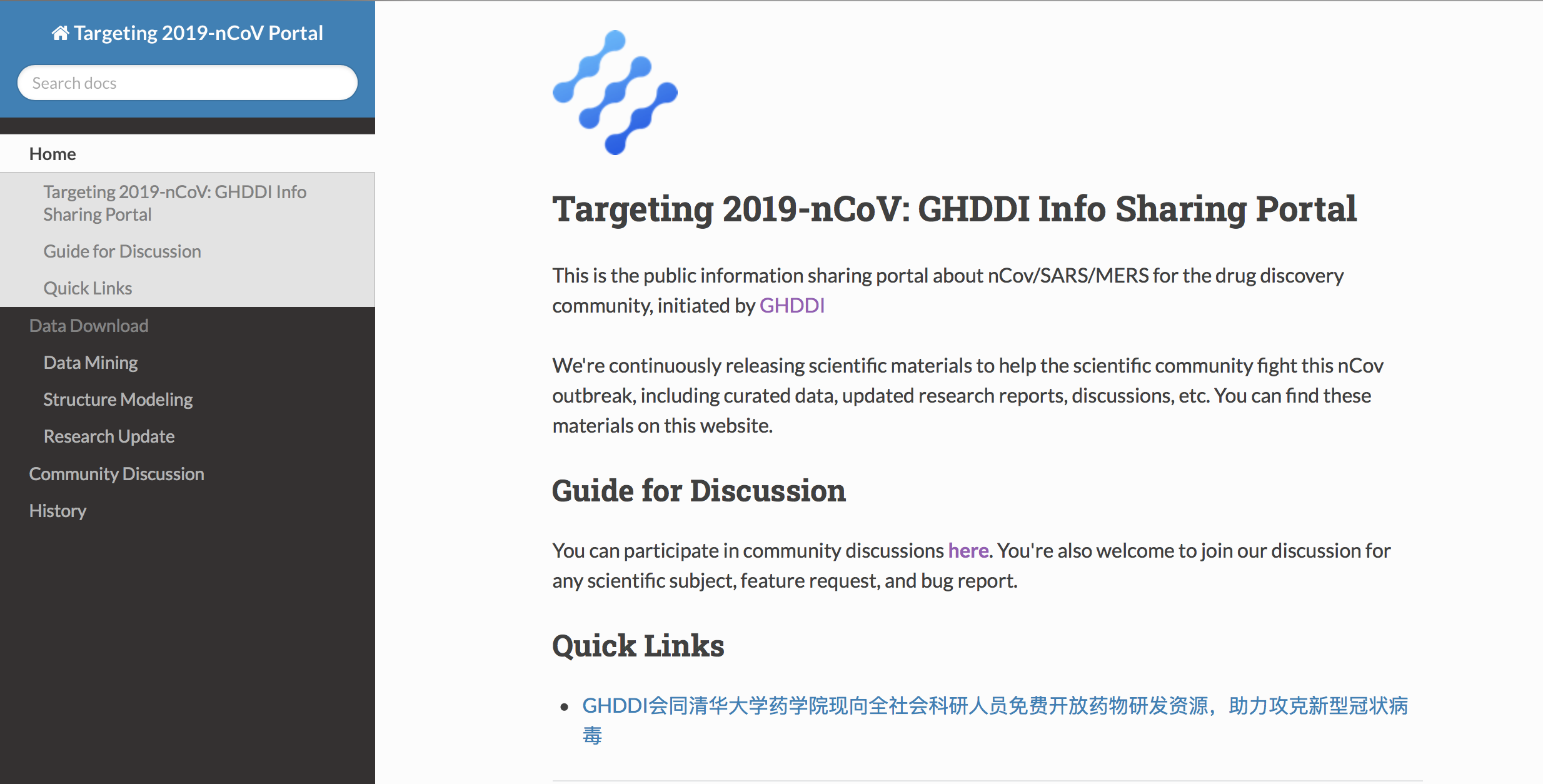 ▲ GHDDI Targeting 2019-nCoV
Connect with GHDDI
To coordinate and maximize the utility of our resources, please contact us if you hope to collaborate with us or obtain technical support from us and fill in the request form below. Once your request is approved, we will reach out to you ASAP. Thank you!
Online Request Form:
http://ghddionlineform.mikecrm.com/KRLHRTl
We wish to express our gratitude to the Alibaba Cloud team for providing computing resources and technical support, and special thanks to Dr. Song Pengcheng for helping us construct the portal.